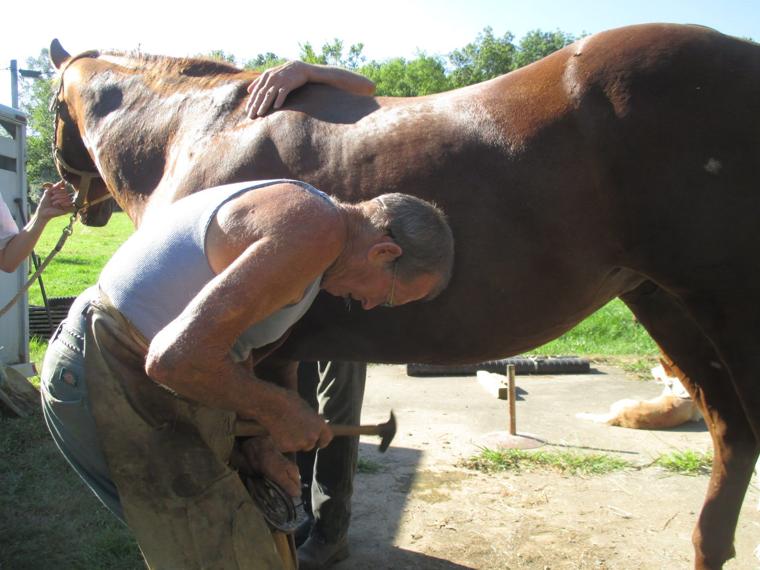 By The Vinton County Courier
For 30 years, Frank Johnson made his living principally from shoeing horses in southern Ohio. It's about the same number of years the Hamden resident of Vinton County has been entering his standardbred horses in harness racing events, including at the Athens County Fair.
The elder Johnson has 15 pacer horses, many kept on oldest son Kenny's 196-acre farm in Jackson.
"I just like to see them race," he says, explaining his passion for harness racing. "It's such a big challenge. I buy them when they're 2 years old."
It is also an avocation that makes a strong family bond even stronger. Johnson and his wife Jean Ann raised their sons — Kenny, Kevin, Kurtis, Keith and Kris — as 4-H Club members so they could learn the responsibility that comes with raising horses, cattle and pigs. Son Kenny and youngest son Kris translated the value of hard work in livestock to equally hard work as coal miners.
Now well into his golden years, Johnson just shoes horses occasionally. "I used to shoe six, eight, even 10 a day," he says. "Now I just do it for people I know real well."
List past Sunday, one of those people was Heidi Marty of Shade and one of her registered quarter horses, Babe. Johnson has been shoeing horses for Marty since she was 18, and one of his former sulky racers, KJ, "retired" on her farm.
"He won quite a few races in his time," Johnson says.
Marty enjoys Johnson's shoeing visits.
"He's real open minded, always learning new things as he continually updates his knowledge level," she says. "And he never says a negative word about anyone."