Grand Island farrier Phillip Fisher has joined some elite company as the Nebraska Horse Council (NHC) recently named Fisher the 2013 Horseperson of the Year.
According to Patty Lavelle, NHC president, each year the Nebraska Horse Council searches to honor a Nebraskan who has made outstanding, long-term contributions to the Nebraska horse industry.
"I have know Phil since I was 14 when he shod my fox-hunting horse, building custom-made shoes from a straight bar of steel — complete with borium 'cleats' for traction," Lavelle says.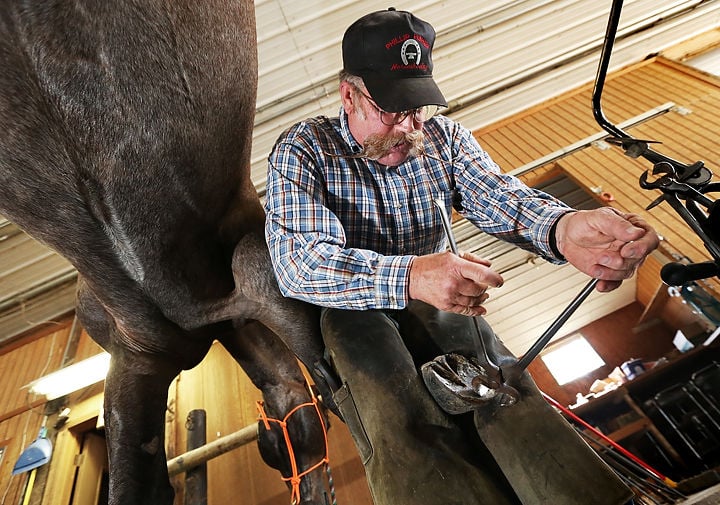 She says she would hold her horse while "Phil expertly trimmed, shaped and nailed four metal pieces of art to my horse's troubled feet."
"Phil would cheerfully answer all my questions about what he was doing and tell me stories about horses and horse people he had known," Lavelle says. "Twenty-five years later, I am glad to see Phil is still helping horse people keep their cherished mounts sound and patiently answering the questions of other young horse-crazy kids."
She says it was "exciting to have a man who contributed to my horsemanship be honored by the Nebraska Horse Council."
"Phil is definitely deserving of the honor and accepted it in his customary humble and kind way," she says.
Fisher says he was "shocked" when he learned he was named Horseperson of the Year.
Fisher grew up in Malcom. When he was a teenager, he worked at a ranch near Burwell.
"The brother of the guy I worked for was a farrier and that got me interested in it," he says.
Fisher said around 1980, he was managing a ranch, but the owners of the ranch decided to develop the land to center pivot irrigation and he lost his job.
"I decided that if I was ever going to work for myself," he says, "I would go and be a farrier."