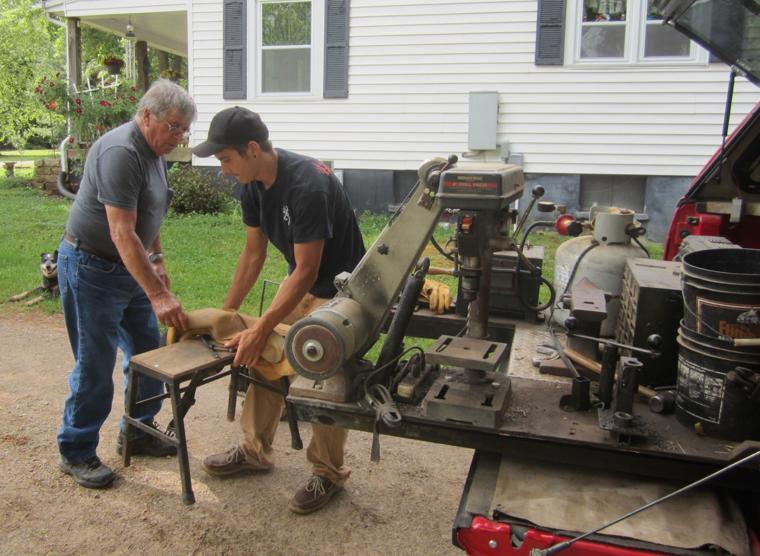 By Danville Register & Bee
After 50 years as a farrier, Coye Landrum of Blairs, Va., has decided to slow down.
Landrum started out working for Dan River Mills, then worked for the Register & Bee's circulation department for about 3 years, before deciding he wanted to work for himself.
He and his wife Betty had just purchased a horse from A.M. Whitley and Landrum was fascinated by the process of getting horseshoes on it. You don't just grab a one-size-fits-all, u-shaped piece of metal and hammer it to a hoof, he learned.
First the hooves have to be trimmed — every 4 to 5 weeks for show horses and every 6 to 8 weeks for riding or trail horses.
"They're a lot like fingernails; they grow about a 1/4 inch a month," Landrum says.
While factory-made horseshoes are now available, they still have to be shaped to the individual horse's hoof, Landrum says. That involves heating them up in a forge and shaping them on an anvil — the same process old-time blacksmiths used to shoe a horse.
Back then, Betty says, the Register was published in the morning and the Bee in the afternoon; Landrum worked a split-shift to work in circulation for both of them. In between those shifts and after his regular job was done for the day, he worked with Whitley to learn the horseshoeing business.
And he began to pick up regular customers quickly, Landrum says.
"I never really had to worry about work; other than Mr. Whitley and one other part-time guy, the closest [farrier] was in Martinsville," Landrum says. "I was very dependable. I always said I got more work for being dependable than for being good when I started."
Ultimately, he quit the newspaper job and went with his horseshoe business full-time.
There have been challenges. Landrum has had two heart attacks in 1990s and back surgery in the mid-1970s, which sidelined his career for a while, but others in his field stepped in and helped out.
"All of his shoeing friends took over for him when he had his heart attack in 1992," Betty says.
Landrum says it happened again with his other health issues.
"Some of them didn't even know me so well, but they'd all tell the customers to send me the money," Landrum says. "I've always tried to do the same thing."
Landrum Horseshoeing won't close just because Landrum is retiring. Samuel Landrum, 19, will be taking over for his grandfather.
"He's been helping Coye since he was knee-high to a grasshopper," Betty says.
Landrum says that while he has enjoyed the job — plus related blacksmithing competitions and jobs that have taken him all over the region and beyond, including New Hampshire and South Africa — it's time to slow down a little.
"It's been a good living," Landrum says. "You've got to like what you're doing, not just for the money — if you don't like doing it, you're not going to make much anyway."