INTERNATIONAL HOOF-CARE SUMMIT
2021 Virtual Lecture Series
Hoof-care learning on your schedule

The International Hoof-Care Summit — 2021 Virtual Clinic Series offers a diverse learning program exploring today's most critical equine hoof-care topics.
From Feb.-Sept. 2021, we'll release a series of monthly on-demand Virtual Clinic Series presentations featuring respected farriers, veterinarians and researchers delivering innovative, inspirational ideas to help you increase your hoof-care knowledge and grow your business. You'll also have access to monthly live speaker Q&A sessions, panel discussions and dozens of replays of top-rated presentations from past International Hoof-Care Summits!
Sign up today for $99 and gain a full year of access to 150+ live and on-demand session in the Virtual Clinic Series.
---
schedule of monthly virtual clinic themes
September: Improving Product Use and Application
(Learn about September's program below)
August: Building a Better Business and Client Management
(Learn about August's program here)
July: The Future of Evidence-Based Farriery
(Learn about July's program here)
June: Anatomy and Biomechanics
(Learn about June's program here)
May: Managing Foot Diseases
(Learn about May's program here)
April: Shoeing for Specific Disciplines
(Learn about April's program here)

March: Better Footcare Basics
(Learn about March's program here)

February: Therapeutic Shoeing
(Learn about February's program here)



---
SEPTEMBER PROGRAM THEME:
Improving Product Use and Application
Brought to you by:
ATTEND 3 LIVE ONLINE pANEL SESSIONS in september and October
Virtual Clinic Series attendees get exclusive access to attend several live online Q&A Sessions held live each month focusing on a specific monthly hoof-care theme. September and October's focus is "Improving Product Use and Application."
Register today and you'll automatically be signed up to attend the live sessions below in September/October. If you are unable to join a live session, it will be recorded for replay viewing later.
PANEL SESSION: "USING ADHESIVES"
SATURDAY, SEPTEMBER 25 @ 11 A.M. CDT
In this session, these farriers will share their best tips for working with adhesives in a variety of hoof-care applications. This panel will consist of Steve Kraus, Curtis Burns and Jeff Newman. Steve Kraus is the Head of Farrier Services & Senior Lecturer, Cornell University. Curtis Burns is a farrier based in Wellington, Fla., known for his work with therapeutic applications and the Ployflex shoe. Jeff Newnham, a British farrier who is behind Pro-Glu.
---
PANEL SESSION: "virtual clinic roundup"
WEDNESDAY, SEPTEMBER 29 @ 7 P.M. CDT
In this session, some of the speakers from the 2021 Virtual Clinic series answer your questions about farriery. This panel represents a wide variety of footcare practices. The session will feature, Pat Reilly, Gary Gullo and Bob Smith.
---
Q&A SESSION: Mitch taylor, kentucky horseshoeing school
Thursday, october 28 @ 6 P.M. CDT

In this session sponsored by Werkman Hoofcare, Mitch Taylor of the Kentucky Horseshoeing School will examine case studies using Werkman Black. The International Horseshoeing Hall of Fame member use the motion tracking technology to analyze potential problems and determine hoof-care solutions. A Q&A will follow.
Premium Sponsor: Work Sharp Tools
Work Sharp has been creating sharpening tools since 1973 under the brands DAREX industrial bit sharpeners, DRILL DOCTOR professional and DIY drill bit sharpeners, and Work Sharp knife and tool sharpeners. A 4th generation family-owned business located in Ashland, Ore., Work Sharp exists to surprise and delight the customers who buy and use our products. "At our core we focus first on the experience the customer has with our products, and our company.
From the first introduction they have with our brands to support after purchase, we strive to stand apart from mediocrity. As we move into the future with new products, new markets, and new ideas this will continue to be the cornerstone of what we do."– Matthew Bernard, Owner & CEO. Work Sharp has established itself as the company people turn to when the want a sharp knife. With easy-to-use products that literally guide you through the process, Work Sharp is making the mystique that often comes with sharpening disappear. With intuitive products, world class customer service, and an educational series on their YouTube channel, anyone can go from having never sharpened before to sharping all their knives with confidence.
Learn more at: www.worksharptools.com/
---
the SEptember program also includes
10 ON-DEMAND Sessions FOCUSED ON "Improving Product Use and Application."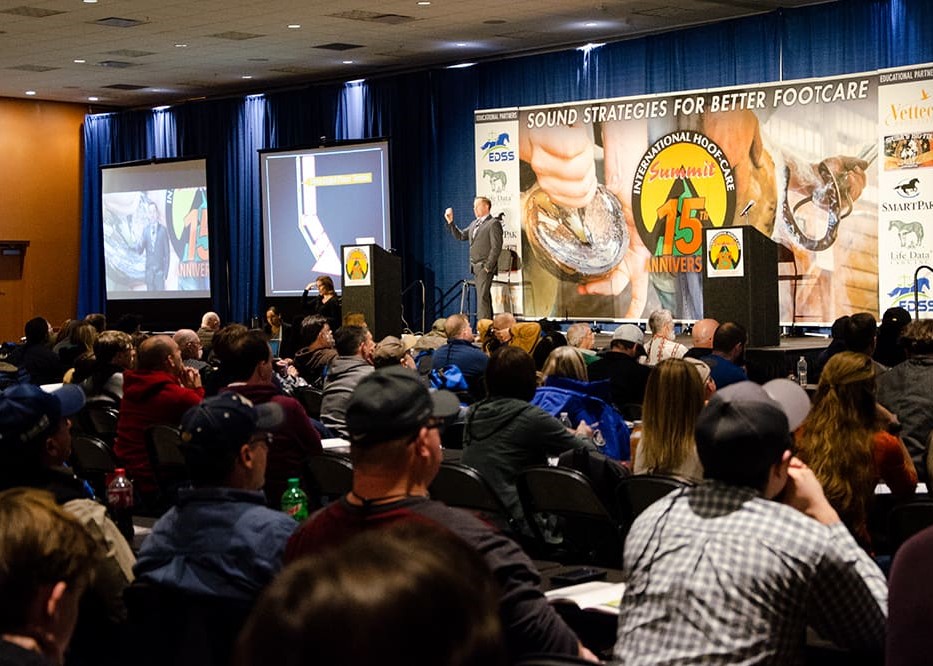 Register today and you'll receive on-demand access to these
best-of-the-best presentations from past International Hoof-Care Summits focused on
"Improving Product Use and Application."
INCREASE YOUR PROFIT WITH BASIC SHOE MODIFICATIONS
Paul Skaggs, MS, CJF, APF, Fults, Ill.
SHOE MODIFICATIONS: THE BUSINESS BREAKDOWN
Paul Skaggs, MS, CJF, APF, Fults, Ill.
PRACTICAL ADVICE FOR USING POUR-IN PADS
Todd Allen, CJF, Vandergrift, Pa.
ADHESIVE OPTIONS IN RELATION TO FOOT TYPE
Stuart Muir, CJF, APF-I, NZCEF, DipWCF, Rood & Riddle Equine Hospital, Lexington, Ky.
4 SOLID MODIFICATIONS TO USE WITH KEG SHOES
Bob Smith, APF-I, CF, Pacific Coast Horseshoeing School
FLUOROSCOPY: HOW CAN WE LEARN THROUGH GAIT ANALYSIS
Jenny Hagen, DVM, PhD, CF., Leipzig University
Learn more
SHOEING STRATEGIES — COVERING 'NORMAL' THROUGH PATHOLOGIES
Scott Morrison, DVM, CJF, Rood & Riddle Equine Hospital, Lexington, Ky.
HOOF WALL REBUILDS: COMBINING THE OLD AND THE NEW
Mark SIlverman, DVM, Rancho Sante Fe, Calif.
LOOKING INSIDE THE HORSE'S HOOF: HOW CAN ADVANCED IMAGING HELP FARRIERS?
Renate Weller, Dr. Med.Vet, PhD, MRCVS, FHEA, Dean of Faculty of Veterinary Medicine at the University of Calgary.
IMPROVING PRODUCT USE AND APPLICATION
Matt Maurer, Farrier, Knifesmith, Argyle, Wis.