From Feb.-Sept. 2021, we'll release a series of monthly on-demand Virtual Clinic Series presentations featuring respected farriers, veterinarians and researchers delivering innovative, inspirational ideas to help you increase your hoof-care knowledge and grow your business. You'll also have access to monthly live speaker Q&A sessions, panel discussions and dozens of replays of top-rated presentations from past International Hoof-Care Summits!
Virtual Clinic Series attendees get exclusive access to attend several live online Q&A Sessions held live each month focusing on a specific monthly hoof-care theme. August's focus is "Building a Better Business and Client Management."

SPEAKER Session:
Joshua Sanders, APF-I, Cannonsburg, Pa.
monday, August 16 @ 7 p.m. cdt
Pennsylvania farrier Josh Sanders, APF-I, will answer questions related to his two on-demand sessions on business management and growth. Sanders is a farrier in Canonsburg, Pa., who has been shoeing since 2013. He is an alumnus of Kentucky Horseshoeing School in Richmond, Ky.
---
Panel discussion:
Expert Advice on Growing a Farrier Practice
Tuesday, August 24 @ 7 p.m. cdt
In this session, farriers discuss strategies and tactics they've uncovered for increasing their bottom lines. They will also share experiences in which ideas fell short so you can avoid these mistakes. This panel will be moderated by Rich Armentrout, a farrier with insight in being a successful entrepreneur. His business, Richard's Holistic Equine Services, focuses on therapeutic footcare.
---

Panel Session:
Blane Chapman, CJF, Vernon, Texas
Wednesday, august 18 @ 7 p.m. cdt
Farriery is considered a super niche within the horse industry, yet there are even more within this profession, whether its discipline-specific, therapeutic shoeing, hoof crack repair, glue-on shoes, the list goes on. Where is your niche and how do you find it? Vernon, Texas, farrier Blane Chapman will explore this topic during a conversation with panelists Crown Point, Ind., farrier Tom Willoughby, Parkersburg, Pa., farrier Daisy Bicking, Marguerite Paige of Mustad Hoofcare and Jeff Cota of American Farriers Journal.
---
Q&A Session:
mitch taylor, kentucky horseshoeing school
Monday, august 9 @ 6 p.m. cdT
In this session sponsored by Werkman Hoofcare, Mitch Taylor of the Kentucky Horseshoeing School will discuss distal limb injuries. The International Horseshoeing Hall of Fame member will introduce you to Werkman Black motion tracking technology and dissect a limb with an emphasis on basic biomechanics that will complement a future session in which case studies will be examined using Werkman Black. A Q&A session will follow.
---

Q&A Session:
PAT BROADUS, CJF, SHELBYVILLE, Ky.
FRIDAY, august 13 @ 6 p.m. cdt
Thoroughbred horses have notoriously thin hoof walls and preserving them is a significant challenge for farriers who are both on and off the racetrack. In this session, sponsored by the Victory Racing Plate Co., Shelbyville, Ky., farrier Pat Broadus will discuss his approach for improving the hoof wall of horses that work on and off the track. In addition, Broadus will discuss strategies for successfully transitioning Thoroughbreds's feet for off the track. A Q&A session will follow the presentation.
Premium Sponsor: The Victory Racing Plate Company
STRONG AS STEEL AND RICH IN TRADITION
2021 marks the 92nd anniversary of The VICTORY Racing Plate Company! We are proud of our heritage as industry innovators and proud of our leadership role in the sport horse industry. In 1929, VICTORY proved that aluminum is a viable material to replace steel plates and in 1988, VICTORY proved again that aluminum could replace steel for many sport horses by introducing the ELITE Competition Shoe product line. VICTORY's product family also includes: HOOF-LIFE hoof support and repair materials; horseshoe nails; steel training and harness racing plates; TRUE-FLITE, Thera-Flex and Hoof Shield hoof pads. VICTORY – world renowned for quality since 1929.
Learn more at: victoryracingplate.com
---
the AUGUST program also includes
12 ON-DEMAND Sessions FOCUSED ON "Building a Better Business and Client Management."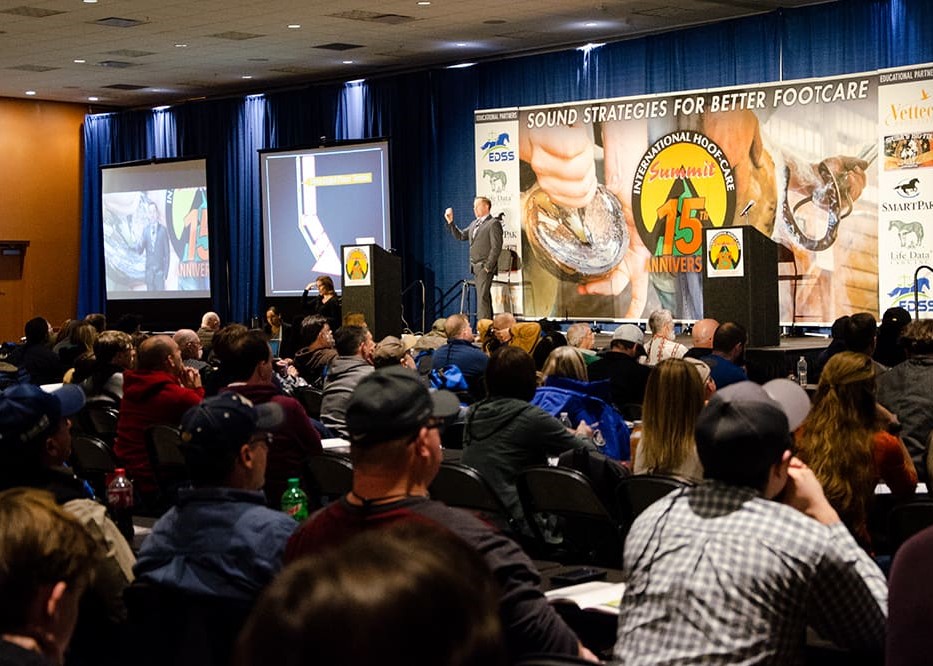 Register today and you'll receive on-demand access to these
best-of-the-best presentations from past International Hoof-Care Summits focused on
"Building a Better Business and Client Management."


GROWING YOUR PRACTICE AND CLIENT RETENTION
Joshua Sanders, APF-I, Cannonsburg, Pa.
Learn more
What kind of farrier business do you currently have and what kind of business do you want to have? Canonsburg, Pa., farrier Joshua Sanders discusses how to identify the answers to those questions, which will help you determine a business plan that will get you from Point A to Point B.
FINDING AND EVALUATING PROSPECTIVE CLIENTS
Joshua Sanders, APF-I, Cannonsburg, Pa.
Learn more
Finding clients can be a challenge when starting or relocating their farrier business. Canonsburg, Pa., farrier Joshua Sanders discusses successful strategies for finding and evaluating prospective clients.
DON'T SINK THE BOAT! BE THE CAPTAIN OF YOUR FINANCES
David Barron, CJF, APF, Woodinville, Wash.
Learn more
Almost everything we do in the business of hoof care is based on anecdotal information passed to us by others, or concocted by ourselves after acquiring some working experience. No one until now has taken an interest in the primary reason that you're in business, which is to make money and facilitate the lifestyle of YOUR choice! In this lecture, farrier-turned-financial-planner David Barron will focus on WHAT you want out of your business, HOW to plot a course for those objectives, and WHY the hoof-care industry has been a bed of misinformation on business for such a long time.
ARE YOU A LIABILITY?
David Barron, CJF, APF, Woodinville, Wash.
Learn more
What is "liability?" Why does everyone think that what I do is so precarious, and how can I protect my empire from suffering the consequences of a professional catastrophic event? In this lecture David Barron, a former CJF farrier, will examine how evaluation appraises the risks associated with hoof-care work, what would happen in the event of a liability claim arising and what financial products are available to build a moat around the castle you're busy building.
HOW TO BREAK THROUGH THE PRICE PLATEAU OF YOUR HOOF-CARE PRACTICE
Lee Olsen, CJF, APF
Learn more
There are a lot of factors that affect pricing. But can some of the perceived causes of pricing limitation be more self-imposed? In this session, Weatherford, Texas, farrier Lee Olsen will share his real world experiences in how he used to reach his full income potential.
40 IDEAS IN 40 MINUTES: REVOLUTIONARY BUSINESS IDEAS TO TAKE HOMEMaarten Oosterlinck,
Mark Aikens, DipWCF, BSc (Hons) of Norwich, England
Daisy Bicking, APF-I of Parkesburg, Pa.
Steve Foxworth, (CNBBT, CNBF, CLS, CE, CI) of Loveland, Colo.
Learn more
Sometimes a single idea or tip can make it worthwhile to attend a conference. In this fast-paced presentation, these three farriers will share short, but effective, advice that you can take home and immediately build into your practice. Mark Aikens of Norwich, England; Daisy Bicking of Parkesburg, Pa.; and Steve Foxworth of Loveland, Colo., will each have 1-minute to share these 40 actionable ideas.
DON'T LET DEBT CRIPPLE YOUR FOOTCARE PRACTICE
Shane Westman, APF-I, CJF, University of Calofnia, Davis
Learn more
Before he became the resident farrier at the University of California, Davis, Shane Westman had a multi-discipline practice based in Bow, Wash. After some dramatic life changes, he found himself in debt. In this presentation, he will share how he turned things around to once again have a financially successful business and life. Furthermore, he'll differentiate between good and bad debt.
HOW YOGA CAN HELP THE FARRIER
Mitch Shelhamer, Farrier, Casin Wy.
Suzi Shelhamer, Yoga Instructor, Casin Wy.
Wear and tear on the farrier's body can be grueling. Factors like diet, medical care and exercise will prolong your career. In this session, farrier Mitch Shelhamer and yoga instructor Suzi Shelhamer of Basin, Wyo., will talk about how yoga turned Mitch's career around and share repeatable techniques to build in your own wellness program.
WHAT DOES IT COST YOU TO SHOE EACH HORSE?
Pat Broaducs, CJF, Shelbyville, Ky.,
Danvers Child, CJF, Lafayette, Ind.
The most common way that farriers gauge the profitability of their businesses is by determining what it costs to shoe each horse. The key to make this work is examining a complete picture. Kentucky farrier Pat Broadus and Indiana farrier Danvers Child will survey some of these often overlooked elements. They will also share some other factors you need to consider to make sure your practice is moving in the right direction financially.
IS SADDLE FIT THE PROBLEM?
Steve Kraus, CJF, Head of Farrier Services and Senior Lecturer, Cornell University, Ithaca, N.Y.
Learn more
Farriers are aware that poor fitting horseshoes can cause discomfort and lameness in horses. Unfortunately, many do not realize that poor fitting saddles can cause lameness, gait faults, shoeing problems and even personality problems. Cornell University farrier Steve Kraus will show why it is vital to be able to recognize problems and how to best handle them. He'll also explain how appropriate, skillful farriery needs to be in concert not only with saddlery, but other equine care issues.
LIABILITY LAW AND THE FARRIER BUSINESS
Mary Bramley, APF-I Randolph, Mass.
Learn more
Before she became a farrier, Mary Bramley worked as an attorney. One area she sees her farrier colleagues confused about is how to classify their businesses. Whether a limited liability company other classification, what are the advantages and disadvantages? And when trouble comes, which one will protect you, your business and your assets? The Massachusetts farrier will give you the clear picture.
SUPPORT YOUR HOOF CARE AND OPEN A NEW DIALOGUE WITH CLIENT
Dr. Pat Bona, Chiropractor, Co-Founder of Broad Axe Chiropractic Center
Learn more
Dr. Patricia Bona discusses evaluation of myofascial restrictions due to various issues. You'll learn how to recognize the altered posture caused by "conditions" of plantar fasciitis, rotator cuff syndrome and tennis elbow in horses to help restore good posture from the feet up and the top down. Bona also will share her thoughts on how the whole horse team can collaborate on these matters.